RSVP Books Proudly Presents . . .

Hangin' With Noah
Polymer Clay & Jute Designs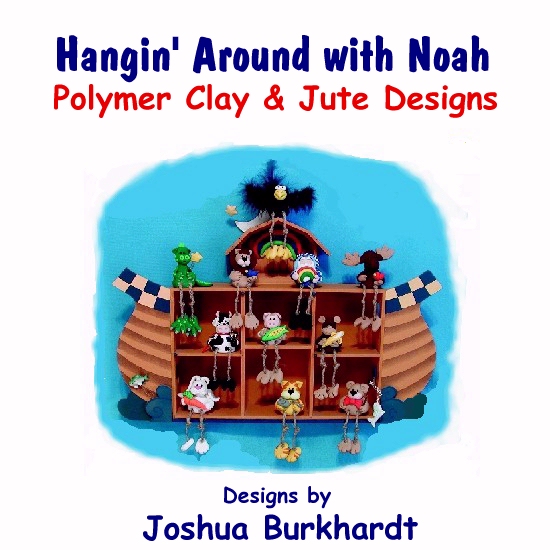 by
Joshua Burkhardt

Published 2001 by RSVP Press. E-Book version.


The first book by 12 year old Joshua Burkhardt, a gifted artist. Well-designed, beautifully illustrated and well-written, Hangin' With Noah is a step-by-step guide to creating 11 polymer clay craft projects that are cute and lovable. A wonderful book for all ages - from kids to adults as well as those experienced with polymer clay and those newer to this incredible crafts medium.


Contents: 11 Polymer Clay Craft Projects -

Noah
Rocky Raven
Bernie Bear
Leo Lion
Willfred Pig
Raymond Rabbit
Cato Cat
Bessie Cow
Duncan Dinosaur
Monkey George
Cocoa Moose


Craft projects can be used for computer buddies, flower pot sitters, etc. - or just to love and enjoy! Plus - Tips and hints for creating with polymer clay- including tips on tools, sculpting and modeling, and more. Also includes Bible verses, jokes and more!


CD includes:
Windows 95/98/ME versions of this e-book
Mac Version (HTML)




BIOGRAPHY:

At 12 years old, Joshua Burkhardt, Florida, is a gifted artist, instructor and author.
This is Joshua's first published book.
Please feel free to email us with your questions or orders


Paperbacks Available Now

Paperbacks Available 2004-5

E-Books Now Available

Customer Comments

Links

RSVP Press

About Us
Books-A-Million
Borders
Amazon
Barnes & Noble
Powell's
©2004 One Website Terrace all rights reserved